Il convegno, incentrato sullo stato delle ricerche sul Quaternario in Italia, intende evidenziare le nuove linee di ricerca, in particolare quelle promosse da giovani ricercatori ed individuare ed esaminare una serie di tematiche utili per vincere le numerose sfide aperte a livello regionale e nazionale per lo sviluppo di una corretta politica ambientale, prevede sessioni molto ricche con contributi numerosi e diversificati.
Ø RICHIAMIAMO ALL'ATTENZIONE DEGLI ORATORI L'ASSOLUTA NECESSITÀ DI MANTENERE LA LORO COMUNICAZIONE NEI TEMPI PREVISTI (18 MINUTI PER LE RELAZIONI A INVITO, 13 PER LE ALTRE, 4 PER LE RELAZIONI BREVI).
Ø SEDE DEL CONVEGNO: SALA STROZZI presso il DIPARTIMENTO DI SCIENZE DELLA TERRA DI FIRENZE, VIA G. LA PIRA 4. LA SALA SI TROVA ACCANTO ALL'ENTRATA DEL MUSEO PALEONTOLOGICO AL PIANO TERRA DEL DIPARTIMENTO.
IL QUATERNARIO: Passato, Presente, Futuro
40 anni di Quaternario in Italia in una prospettiva alpino-mediterranea
(QUATERNARY: Past, Present, Future – 40 years of Italian Quaternary in an Alpine-Mediterranean perspective)
Organizzato da Adele Bertini e Maria Rita Palombo
13-14 giugno 2018: sessioni convegno - Sala Strozzi, Firenze
15 giugno 2018: escursione in Valdarno Superiore
3° Circolare
PROGRAMMA
13 GIUGNO 2018
9.00 Apertura registrazione
9.15-9.30 Apertura del convegno, saluti del Prof. M. Benvenuti, Presidente Sistema Museale di Ateneo, Univ. degli Studi di Firenze
9.30-9.50 "IN RICORDO DI CARLO BOSI" con interventi di C. Bartolini e P. Messina
9.50-10.05 Galadini (INGV)
Dalla Carta Neotettonica ad oggi: riflessioni sul tema "faglie attive e capaci".
UOMO E BIOSFERA (10.10-13.00)
Coordinatori: M. Peresani (Univ. Ferrara), D. Magri (Univ. La Sapienza)
10.10-10.30 L. Carrera (Univ. Ferrara)
Birds from the Late Pleistocene: environmental and climatic scenarios between the Alps and the Great Adriatic Plain (North-Eastern Italy)
10.30-10.50 D. Festi (Univ. Libera Bolzano)
Now or never: the study of disappearing ice archives in the time of global warming
10.50-11.05 Lugli et al.
Middle Pleistocene human and animal mobility at Isernia La Pineta: a strontium and oxygen isotope perspective
11.05-11.20 Cerilli & Fiore
Natural and anthropic events at La Polledrara di Cecanibbio (Italy, Rome): some significant examples.
11.20-11.35 Ravazzi et al.
Palaeoenvironment and vegetation history in the Central Po Plain (Northern Italy) between 33 - 30 ka cal BP under the impact of millennial
climate change
11.35-11.50 Peresani et al.
Human resilience and the climatic impact of Greenland Stadial 5 on the landscape of the Northern Apennine watershed. An assessment
based on multidisciplinary data from the Piovesello Gravettian site
11.50-12.05 Avanzini et al.
Icno-archeology of a human Palaeolithic ecosystem: the human and animal footprints in the Grotta della Basura (Toirano, Northern Italy)
12.05-12.20 Terlato et al.
Extinction and palaeoecology of the Late Pleistocene cave bear from northeastern Italy: radiocarbon and stable isotope evidence
12.20-12.35 Di Lorenzo & Russo Ermolli
Pollen evidence of vegetation changes and land use on the Tropea Promontory (Calabria, Italy) during Prehistory
12.35-12.50 Colica et al.
Mercury dispersion from the Mt. Amiata Mining District to the upper reach of the Paglia River (Central Italy): a geomorphological-geochemical
approach defines the interaction between river deposits and mining activity
13.00 - 14.30 Pausa pranzo
PROCESSI TERRESTRI (14.30-16.40)
Coordinatori: Paolo Mozzi (Univ. Padova), Mauro Antonio Di Vito (INGV), Emanuela Falcucci (INGV)
14.30-14.50 G. Giordano (Univ. Roma 3)
Volcano Geology and mapping
14.50-15.10 G. Monegato (CNR, IGG) presenta Monegato & Ravazzi
The late Pleistocene multifold glaciation in the Alps: updates and open questions
15.10-15.25 Di Vito et al.
The Vesuvius Pomici di Avellino Plinian eruption and related phenomena: effects on the Bronze Age landscape of Campania region (Southern Italy)
15.25-15.40 Maceroni et al. Application of Quaternary studies for the assessments of active and capable fault in the Central Apennines: implications for microzonation and seismotectonic analyses
15.40-15.55 Principe et al. Geology of Monte Amiata Volcano (Southern Tuscany)
15.55-16.10 Forno presenta Gattiglio et al Multidisciplinary approach to reconstruct the geological Quaternary evolution of the Torrente Traversola Deformation Zone (Asti Reliefs, NW Italy)
16.10-16.25 Valente et al. Karst sinkholes formation and spatial distribution: clues from the southern Apennines (Italy)
16.25-16.40 Rossato et al. Post-LGM catastrophic landslides in the Dolomites: when, where and why
PROCESSI MARINI E COSTIERI (16.40-18.05)
Coordinatori: M. Anzidei (INGV), G. Mastronuzzi (Univ. Bari)
16.40-17.00 F. Antonioli (ENEA)
Mediterranean sea: many models and few new observational data for the coast, only using the computer will be difficult to improve the projections of the future sea level
17.00-17.20 A. Chelli (Univ. Parma)
Morphodynamics of coastal areas represented in the new geomorphologic map of Italy: draw the landforms of the past to outline the future
17.20-17.35 Mattei presenta Aucelli et al.
First results on the coastal changes related to local sea level variations along the Puteoli sector (Campi Flegrei, Italy) during the historical
times.
17.35-17.50 Pennetta presenta Amato et al.
A geodatabase of Late Pleistocene – Holocene palaeo sea level markers in the Gulf of Naples
17.50-18.05 Corrado et al.
Late Quaternary geology and morpho-evolution of the Volturno coastal plain, southern Italy
18.05-18.20 Ruberti et al.
LGM incised valley in a volcanic setting. The northern Campania plain (Southern Italy)
18.20-18.50 DISCUSSIONE coordinata da M. R. Palombo
14 GIUGNO 2018
8.40 Apertura dei lavori
STRATIGRAFIA E CRONOLOGIA (8.45-10.15)
Coordinatori: M. Balini (Univ. Milano), A. Negri (Univ. Ancona)
8.45-9.00 M. Balini (Univ. Milano)
La CIS (Commissione Italiana di Stratigrafia) e le sue attività
9.00-9.15 Pascucci et al.
Late Quaternary stratigraphy of western Sardinia (Central Mediterranean) based on luminescence dating
SACCOM
9.15-9.30 Spadi
Ostracod assemblages from the Palaeolake Tiberino (Piacenzian-Gelasian, central Italy): a synthesis.
9.30-9.45 Capraro et al.
The 10Be record as a proxy of palaeomagnetic reversals and excursions: a Mediterranean perspective
9.45-10.00 Toti
Mediterranean pollen stratigraphy across the Early-Middle Pleistocene boundary
10.00-10.15 Pieruccini et al.
SEQS-DATESTRA a Database of Terrestrial Quaternary Stratigraphical Sites of Europe: INQUA funded International Focus Group 1620F
CLIMA E PALEOCLIMA (10.15-12.55)
Coordinatori: F. Lirer (CNR, IAMC), F. Toti (Univ. Firenze)
10.15-10.35 Pini et al. (CNR, IDPA)
Quantitative reconstructions of Quaternary climates using pollen: assumptions, numerical techniques and calibration datasets
10.35-10.55 Caruso presenta Bonfardeci et al. (Univ. di Palermo)
Climatic and oceanographic changes in the Azores region during the last 74.7 ka
10.55-11.10 Marino et al.
The climate variability during Marine Isotope Stage 19: evidences from a west-east Mediterranean transect
11.10-11.25 Mannella et al.
Fucino palaeo-lake: towards the palaeoenvironmental history of the last 430 ka
11.25-11.40 Marchegiano et al.
Rapid Late Pleistocene climate change reconstructed from a lacustrine ostracod record in central Italy (Lake Trasimeno, Umbria):
preliminary results.
11.40-11.55 Brilli presenta Fayek et al.
Stable isotope stratigraphy of travertine sequences from channel deposits at Hierapolis of Phrygia (Denizli, Turkey)
11.55-12.10 Tagliasacchi presenta Tagliasacchi & Kayseri-Özer
Palaeoclimate changes in the Afyon province, SW-Turkey, during the middle-late Pleistocene: signals from calcareous tufa pollen and stable isotope records
12.10-12.25 Vallè et al.
Testing pollen-climate models over the last 200 years in N-Italy using instrumental data
12.25-12.40 Furlanetto et al.
Alnus viridis a sensitive snowfall indicator for past oceanic timberlines in the Alps
12.40-12.55 Capalbo
Multiproxy-based reconstruction of the feeding habits from the late Middle Pleistocene straight-tusked elephant population of Poggetti Vecchi (Southern Tuscany, Italy)
13.00- 13.30 DISCUSSIONE coordinata da A. Bertini
13.00 - 14.30 Pausa pranzo
14.30 -16.30 ASSEMBLEA SOCI AIQUA E VOTAZIONI
IL VOLUME CON I TESTI DEI CONTRIBUTI RELATIVI ALLE COMUNICAZIONI PRESENTATE NELLE SESSIONI SARÀ DISPONIBILE ON LINE AL LINK http://amq.aiqua.it/ COMUNICAZIONI BREVI (16.30-17.50)
Coordinatrice: I. Mazzini (CNR, IGAG)
UOMO E BIOSFERA
Coli & Iandelli
Quaternary urban geology and foundations of heritage buildings: a few outstanding case histories from Italy Capalbo et al.
Palaeoecology and taphonomy of the straight-tusked elephant late Middle Pleistocene site of Poggetti Vecchi (Southern Tuscany, Italy)
Palombo et al.
Did elephants meet humans along the Devil's Path? A preliminary report
PROCESSI TERRESTRI
Zerboni et al.
Towards a map of the Upper Pleistocene loess of the Po Plain Loess Basin (Northern Italy)
Fontana et al.
LiDAR-derived DEM for the geoarchaeological investigations in alluvial and coastal plains
Paoli
The February 1st, 2014 Panicaglia Landslide at Borgo San Lorenzo (Mugello)
Zuffetti et al.
Significance of the morphological and stratigraphic surfaces in the Quaternary Po plain: the San Colombano tectonic relief (Lombardy,
Italy)
Vigliotti & Ruberti
Campania Grey Tuff and anthropogenic tuff cavites in the southern metropolitan area of Caserta (southern Italy)
PROCESSI MARINI E COSTIERI
Milella et al.
Experimental determination of the friction coefficient for estimating sea storm induced megaboulders movements
Ronchi et al.
Characteristics and potential application of Holocene tidal inlets in the Northern Adriatic shelf (Italy)
STRATIGRAFIA E CRONOLOGIA
Sechi et al.
Luminescence dating of a middle late Holocene lower shoreface, SW Sardinia (Italy).
Bartolini Lucenti & Rook
The fossil record of the genus Canis (Canidae, Carnivora, Mammalia) from the Upper Valdarno: a critical revision in the frame of the Early
and Middle Pleistocene canids of Eurasia plains
Palombo
Twenty years later: reflections on the Aurelian European land mammal age
CLIMA E PALEOCLIMA
Chiellini et al.
Palaeo-environmental reconstruction of the Mercure basin (Basilicata region) during MIS 13, through a multi-proxy analysis of lacustrine
sediments.
Giustini et al.
An introduction to the early Holocene eolian deposits of Grotta Romanelli, Apulia, southern Italy
Cacciari et al.
Palynological characterization of the Po Delta succession (Northern Italy): Holocene vegetation dynamics, stratigraphic patterns and
palaeoclimate variability
18.00 PREMIAZIONE dalla miglior comunicazione scelta fra quelle presentate da giovani ricercatori (Early Career)
18.20-19.00 circa DISCUSSIONE E SINTESI
15 giugno 2018
Escursione
Visita geologico-stratigrafica ai depositi continentali quaternari del Valdarno Superiore (circa 40 km a sud-est di Firenze) con deviazioni eno-gastronomiche e culturali sul territorio. A cura di Adele Bertini, Maurizio Magi e Silvio Cazzante (Sponsor: Accademia Valdarnese del Poggio e Slowfood).
• Partenza da Firenze: ore 7.30, fermata nei pressi della Stazione SM Novella
• Rientro a Firenze: entro le ore 18, fermata nei pressi della Stazione SM Novella
• Attrezzatura: scarponcini leggeri, acqua, cappello.
I PARTECIPANTI RICEVERANNO PER MAIL INFORMAZIONI PIU' DETTAGLIATE COMPRESA LA GUIDA IN PDF.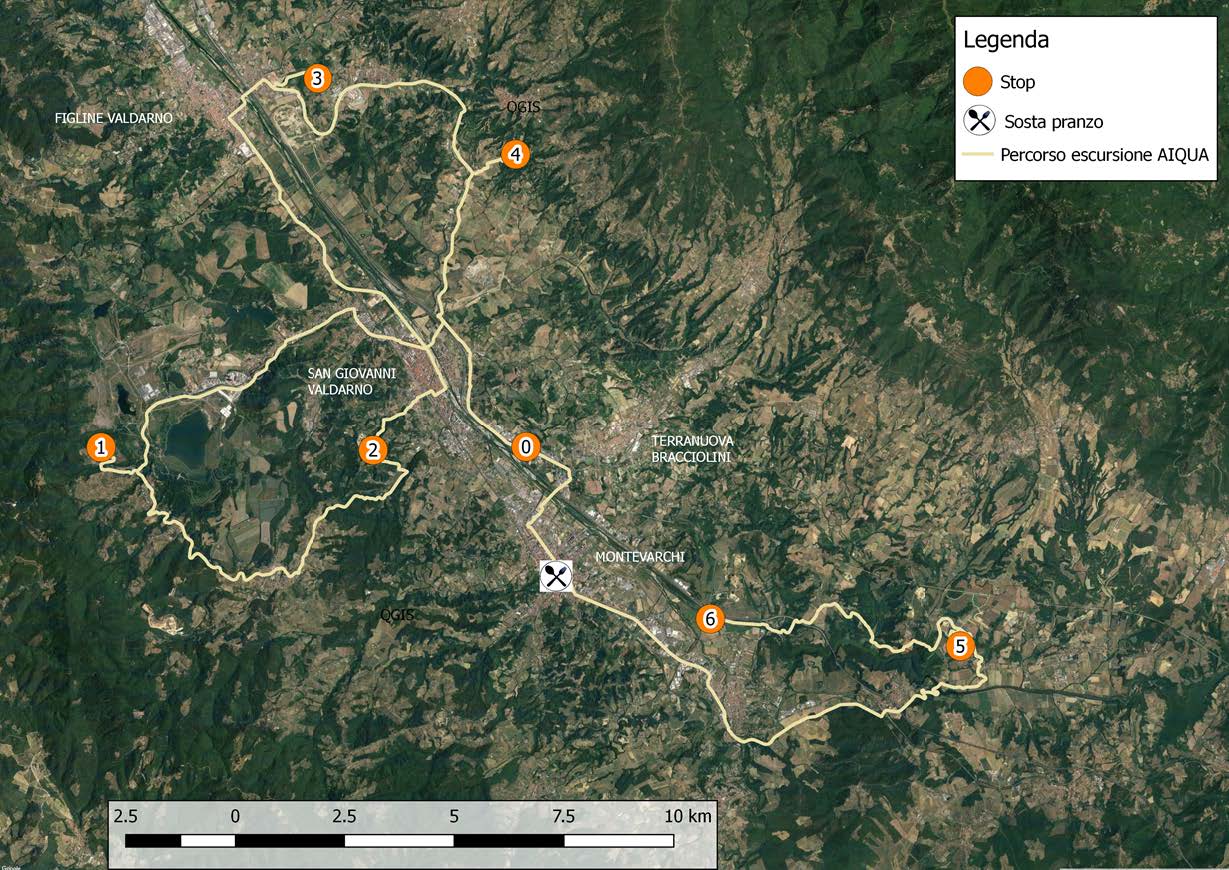 Programma degli stop
0. Uscita casello autostradale del Valdarno Superiore, ore 8.20 circa.
1. Visione panoramica sul bacino, inclusa l'area di affioramento dei depositi pliocenici di Castelnuovo dei Sabbioni.
2. I depositi fluviali della porzione inferiore del Sintema di Montevarchi, in località "Rena Bianca", incluse le sabbie eoliche bianche
corrispondenti alle prime fasi glaciali post 2.6 Ma.
3. I depositi fluviali e palustri, assiali, della porzione superiore di Montevarchi, alla cava di Poggio Rosso. La successione, depositatasi
durante l'Olduvai, include numerosi paleosuoli ed ha restituito un eccezionale accumulo fossilifero noto come «La tana delle iene» di cui
discuteremo dinamica di accumulo sulla base delle evidenze, sedimentologiche, faunistiche e floristiche.
4. Le «Balze», spettacolare vista sui depositi trasversali di conoide alluvionale del Sintema di Montevarchi e del sovrastante Sintema del
T. Ciuffenna, nell'area di Castelfranco di Sopra.
PAUSA PRANZO con visita al museo paleontologico e alla biblioteca dell'Accademia Valdarnese del Poggio.
5. I depositi fluviali assiali del T. Ciuffenna con visione dei sedimenti ghiaioso-sabbiosi del paleo-Arno, presso Laterina.
6. Fiume Arno: affioramento dei depositi recenti del fiume e del sottostante substrato (Sintema di Montevarchi) a causa della recente
marcata incisione dell'alveo fluviale, come spunto di discussione sull'interazione tra effetti antropici (diga) e climatici.
CON IL PATROCINIO DI: